Bringing the outside in is something we hear so often and I must say, a theory I totally follow! How could anyone not be uplifted and motivated by including as much of the nature and activity we see outside our window, inside our homes. Several of my designs, which started life as intricate hand painted batiks on cotton, have since been transferred to my table lamp range. After sourcing the best fine fabric and learning how to manipulate my designs to fit the shapes, my designs were printed onto the fabric by a very talented printer.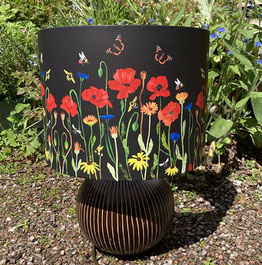 This Poppy Meadow lampshade is another favourite, the design was taken from an original hand painted paper collage inspired by the flowers in my garden. The cornflowers, marigolds, poppies and daisies were set against the dramatic black background to create this stunning piece which really does stand out in the home, night and day! 
This growing trend of including nature in our homes is actually defined as Biophilia, 'the innate human instinct to connect with nature and other living beings'. No doubt our moods are often reflected and connected to our homes and how they are styled. Perhaps also post covid with so many more people working from home there has been even more leaning towards embracing nature and taking this love into our homes, helping us to relax.
Anyone who knows my work will know how inspired and motivated I am by nature so it makes perfect sense to me to take this love with my art, into interior design.  My unique collection of lampshades, become an additional art  feature both when lit and of course unlit. I wanted to take all my art themes, colours, shapes and patterns into these pieces to almost bring my artworks alive a little more! 
I especially loved using my Skomer Island Puffins designs on an elegant cylindrical table lamp. This particular artwork,  featured a group of cheeky black, white and orange clowns who are happily standing together on a lichen covered rock on Skomer Island. There is something really quite fun about these little chaps and featuring this giclee print from one of my original batik's created another practical and functional artwork in my collection which I love.
I hope you love these pieces as much as I do !