The importance of the garden has always played such a very significant role in the UK. We do love our gardens, the beauty, escapism, benefits and rewards they give us. No doubt since Covid and lockdown they have become even more appreciated and valued as people have turned so much more to wildflowers and the importance of the ecological benefits this type of gardening can provide. British wildflowers are under threat and so of course that makes the pollinators they feed also under threat. Wildflower meadows provide growth for so many important pollinators including bees, which I love and often capture in my works. There are over 250 species of bee in the UK, playing such an important role and supporting the ecosystem,  so if art can highlight this, that works for us all!  The combination of this love of our gardens and art is increasingly being recognised by so many major garden shows where they are exhibiting art, photography and crafts.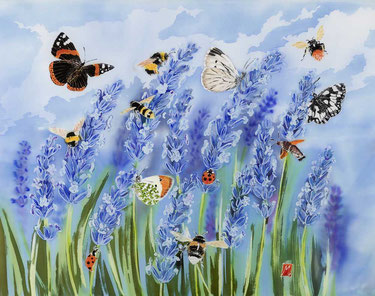 Garden shows are increasingly including artists in their events which is so wonderful to see. I have been an exhibitor at the Malvern RHS show for over 20 years as a member of The Worcester Guild of Contemporary Crafts where I am fortunate enough to now have a strong following. For their 25th anniversary celebration, Princess Anne opened the event and was presented with one of my prints, which I've heard she was most fond of!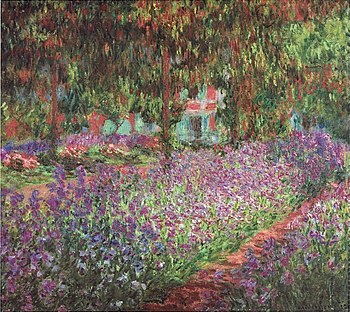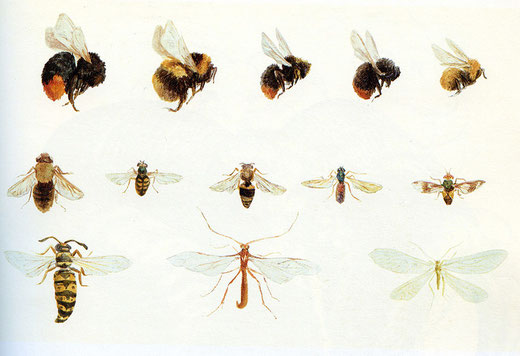 We all know artists through the centuries have been inspired by gardens and nature from the Renaissance with lilies  symbolising purity to pinks symbolising love to Monet who said he owed his paintings 'to flowers' to the beauty and simplicity of Beatrix Potter and her wonderful obsession with nature and its beauty.
Some of my artistic influences include artists like William Morris, Burne-Jones, Darren Woodhead, Angie Lewin to name a few. Artists have enjoyed depicting plants of ecological importance as well as heritage garden blooms and I completely follow this trend in my work, celebrating nature, which I am constantly observing. Garden shows of course seem an obvious place for nature loving artists like myself to have the opportunity to exhibit as lovers of nature explore the gardens and flowers, whilst finding the opportunity to capture some of their passions in art forever. 
Gardens Illustrated magazine has given a great list of some wonderful forthcoming garden shows , including the Malvern RHS Spring Garden Show where I was lucky enough to also exhibit.
So if you have a garden show near you, do try and visit and hopefully there will also be a selection of wonderful artists whose work may inspire and uplift you and you will have the opportunity to buy an everlasting piece of art to remind you of that garden show!
Along with the RHS Spring Garden Show and The Autumn Malvern Show, I'm delighted to have been invited to exhibit my work at Barnsdale Gardens - the late Jeff Hamilton's masterpiece made up of 38 individually designed gardens, in Oakham. I also have an exhibition at Take 4 Gallery in Ledbury in November.
If you would like to look at my work in person do arrange to  meet me at one of my shows. Please check back on my website regularly as new shows are added throughout the year or join my mailing list if you would like me to keep you informed.